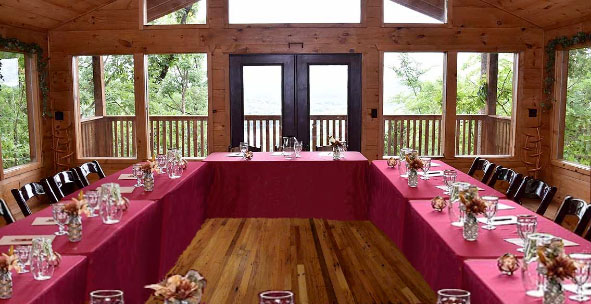 When you are looking for the ideal location for your next corporate outing, church retreat, family reunion, or any other group event, a space with room for everyone, fantastic service, and phenomenal views can all be found with Can-U-Canoe. In the heart of the breathtaking Ozarks, our Eureka Springs cabins and executive conference center are ideally located for your next big event. Join us at Can-U-Canoe for an exceptional experience that your guests will never forget.

The Executive Conference Room
No matter what event you are planning with us, our executive conference room is the perfect space for up to 60 guests to enjoy the day's occasion. Parties can enjoy our Eureka Springs cabins for fitting accommodations while also having the opportunity to take advantage of our beautiful location and area activities. Your guests will be in awe as they catch glimpses of the stunning views out the large windows that open to a panorama down into the valley and the White River. Offering flexible seating, a social deck, and a rustic location, you can get down to business or celebrate while being surrounded by the breathtaking beauty of Eureka Springs.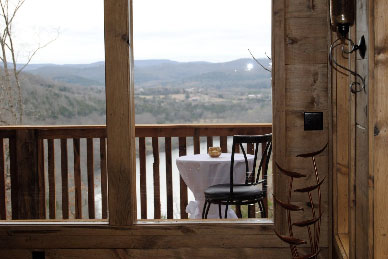 The Best Parts of Any Event at Can-U-Canoe
When you are hosting an event in such a stunning location, there are still a few other details that make it extra special for your guests. When your crew starts to get hungry, Can-U-Canoe offers fantastic catering services that will satisfy that hunger and keep your guests fueled up for the day's events. Mouthwatering creations by our very own Chef Tracy will be the highlight of your day as the flavorful dishes fill your senses and tummy with every bite. Choose from a wide-ranging menu of delightful dishes. From breakfast to appetizers to dinner and champagne socials, there is no limit to the magnificent dining you can treat your guests to. You can also choose from our various lodging opportunities that range from our cozy Ozark cabins to homes and suites that all include unique amenities to top off each guest experience.
Planning Your Event in Eureka Springs
Begin planning your event with us at Can-U-Canoe, and create an incredible occasion that won't be easily forgotten. Whether you are holding a team training to grow your corporate group or are wishing a happy couple congratulations on their years of marriage, our executive conference room and Eureka Springs cabins will be sure to accommodate you and your guests for the best event imaginable. Call us at (479) 253-5966 or visit our website to learn more and start planning your memorable occasion today!