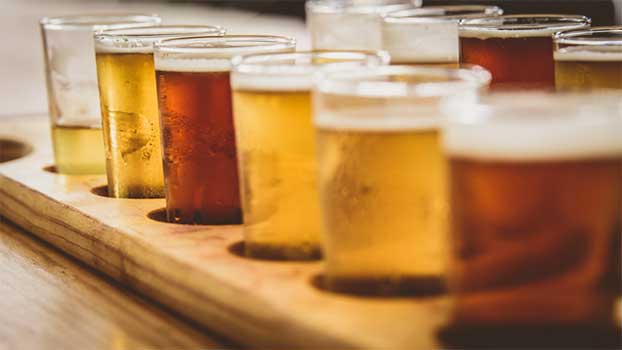 Must-Visit Northwest Arkansas Breweries
Nothing compares to cracking open a cold one after a long work week—except a fresh pour straight from the source. Here in Arkansas, breweries are everywhere, so you don't have to look far to find your new favorite draft. The Can-U-Canoe Riverview Cabins are the perfect environment for enjoying beer: surrounded by wooded scenery with a private deck and grill. So, here are our favorite breweries in northwest Arkansas.
Eureka Springs Brewery
One of the best Arkansas breweries is right here in Eureka Springs. Eureka Springs Brewery specializes in small-batch brews, so you'll find something new to quench your thirst each time you visit. With such variety, you'll never find yourself bored. They have five wooded acres, so there is plenty of room for games and activities, including a 9-hole disc golf course. They're open seven days a week and have ample indoor and outdoor seating.
Arkansas' Best Taproom
Although it's not technically a brewery, Brews in Eureka Springs is one of the best places to grab a beer in Arkansas. It features a rotating tap list from all over the state, so you can grab a taste of Arkansas as a whole. With a dozen different options at all times, there's something at Brews for every beer-lover—or non-lover. In addition to selections from Arkansas breweries, Brews offers fresh coffee, tea, food, and live music.
Ozark Beer Company
At the Can-U-Canoe cabins in Arkansas, we're incredibly fond of Beaver Lake. Arkansas is home to some of the most beautiful Ozark Mountain views, and a journey around the lake is the perfect way to see them. If you decide to take the scenic drive, be sure to stop at Ozark Beer Company, which is one of our favorite Arkansas breweries. It's less than an hour away, so just hop in your car, roll down the windows, and take in the countryside along the route to this Ozark brewery.
Arkansas Breweries and Cabins
After tasting the best Ozarks beer at these breweries in northwest Arkansas, return to your Eureka Springs cabin for an evening of grilling and relaxing. Soak in your indoor or outdoor jacuzzi and gaze out at the unforgettable bluffs. Call 479-253-5966 to book your Eureka Springs getaway today!