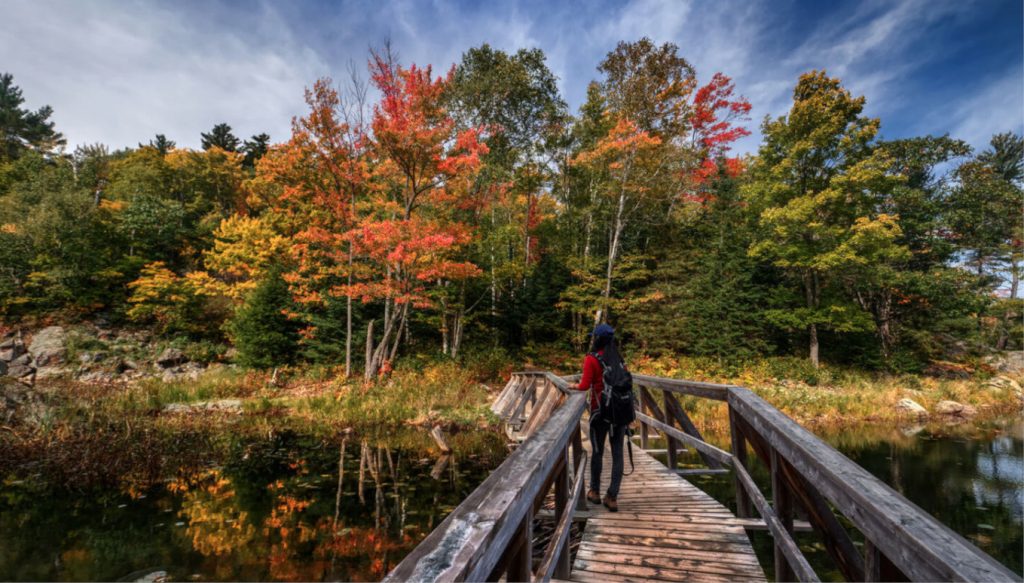 Leaf Peeping in Eureka Springs
The Ozarks region surrounding Eureka Springs is possibly one of the best places for leaf-peeping in the nation, if not the hemisphere. Every fall, tourists and locals alike make their way to Eureka Springs for a look at the stunning fall foliage in Arkansas. The iconic beauty found in the Arkansas Ozarks is exemplified by dense mountain forests, meandering rivers, and rolling foothills. It offers an unrivaled landscape cherished by nature-lovers near and far. Whether by boat, bike, car, or foot, the picturesque scenery and tranquility is a captivating experience that shouldn't be ignored. Within the wooded thickets, Can-U-Canoe offers an eclectic assortment of scenic mountain lodging perfect for any Ozarks vacation. 
While it wouldn't be hard to hop in the car and take in the views, there are many excellent locations to see the fall foliage in Arkansas around Eureka Springs. This idyllic area will certainly make for an unforgettable outing. To make your planning more relaxed, we assembled a guide to the most coveted places for leaf-peeping in our beloved neck of the woods. 
The Best Places for Leaf Peeping near Eureka Springs
While it's no secret that the Arkansas Ozarks are a popular year-round destination, there's something to be said about the type of surreal placidity known only by those who've experienced Eureka Springs in the fall. The misty mornings, brisk air, and dynamic colors lend themselves to a relentless beauty that remains as summer fades away. Adding to the pleasant nature of this setting is the noticeable decline in traffic and people's overall presence. Without further ado, here are some of our recommendations for a leaf-peeping Ozarks vacation. 
Recognized as one of the best most romantic locations in Arkansas and a great place to take a selfie, Hawksbill Crag offers elegant views ideal for leaf-peeping. Possibly the most symbolic landmark on the Buffalo River, Whitaker Point is a highly sought vantage point for professional photographers and amateurs alike. If you are looking for a place to propose in Arkansas, Hawksbill Crag is the place to do it. We promise it will be worth the drive.
Who says leaf-peeping can't be exciting? Ozark Mountain Ziplines, just outside of Eureka Springs, has zip line canopy tours that offer a unique opportunity to admire the fall foliage in Arkansas. The hardwood forests of the Ozarks have a rich diversity of color that can't be easily defined from afar, so why not zip right through it? 
This location is technically not in Arkansas, so we'll enlist the aid of our northern neighbors. Dogwood Canyon Nature Park is near the Arkansas-Missouri border and is less than 45 minutes from Eureka Springs. This sprawling nature area expands over 10,000 acres of gorgeous panoramas, allowing you to see the fall foliage in both Arkansas and Missouri. In addition to their excellent hiking trails, Dogwood Canyon also has several activities and adventures for all ages!
Cabins in Arkansas: The Perfect Ozarks Vacation
You'll never believe how beautiful and relaxing the Ozarks are in the fall until you see and feel it for yourself. Fall foliage in Arkansas is most enjoyable when you have a comfortable place to rest after returning from your outing. Thankfully, Can-U-Canoe has the perfect rental cabins in Arkansas for an Ozarks vacation. For more information on how we can accommodate your stay, please visit us online or call 479-253-5966.