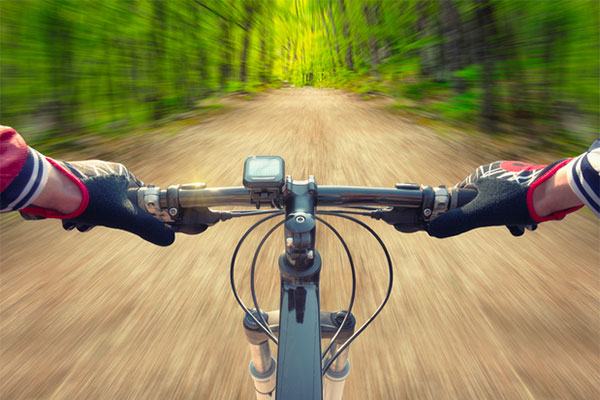 Mountain Biking in Arkansas
Mountain biking in Arkansas is a fun and rewarding experience that should be had by anyone who considers themselves an outdoor enthusiast. The Arkansas Ozarks' forested hillsides, with their majestic waterways and scenic mountainside charm, lend themselves to a countless number of memorable adventures. The Eureka Springs area offers an intricate matrix of excellent pathways just waiting to be explored and rediscovered, making our beloved region the perfect place for an exciting, adrenaline-fueled Ozarks vacation. Located a short drive north from Eureka Springs, Can-U-Canoe offers seemingly unlimited access to some of the best Arkansas mountain bike trails this side of the White River. Below, we put together a brief guide to where to go and what to expect to help get you acquainted with the Eureka Springs mountain biking scene.
Three Great Places for Mountain Biking in Arkansas
Part of the greater Genesis Trail, the Exodus Trail, serves as an excellent shortcut for those with young children or who don't want to take on the entirety of Great Passion Play. Since it's multi-directional, it can be used to lengthen to loop should you decide to add more mileage while mountain biking in Arkansas. It's broken into three main sections. First, the aptly named Historic Loop winds through many of Eureka Springs' oldest neighborhoods, offering patrons a glimpse into the past. Many of the houses have retained their original decor. Next, near Lake Leatherwood, the Sports Field Trail is a flat, unobstructed asphalt path designed with handicap accessibility in mind. Third, the paved road runs along Spring Street towards downtown from Harmon Park and through more historic neighborhoods and downtown Eureka Springs. 
Located in Lake Leatherwood Park, Miner's Rock is considered an intermediate route. This three-mile loop is relatively popular with locals and visitors alike due to its unique terrain and captivating sinkholes. Descending a series of switchbacks and repurposed roadbeds, riders will find panoramic views and an abundance of vantage points.
Quite possibly the Arkansas mountain bike trails' crown jewel, the Lake Leatherwood Gravity Trail is an advanced system that features seven downhill trails filled with earthen berms, jovial rollers, and impressive gaps. Although the system is relatively challenging, there is one beginner course for those looking to earn some stripes on their Ozarks vacation. What's the best perk at the Gravity Trail Project? There is a shuttle at the hill's bottom that will bring patrons back to the top who don't want to make the trek up. 
An Ozarks Vacation in Eureka Springs
Whether you seek a few casual rides to complement your Ozarks vacation or a gravity-powered adrenaline rush, Can-U-Canoe is your basecamp for some of the best mountain biking in Arkansas. With a diverse selection of cabins, lodges, and suites teeming with amenities, we'll have everything you could want for an unforgettable trip. For more information or to book your stay, please visit us online or call 479-253-5966.