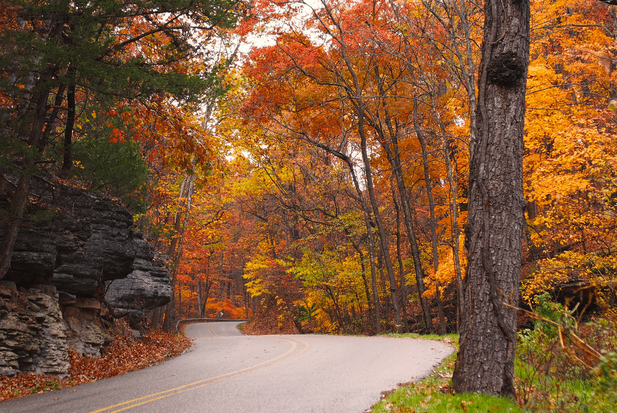 Eureka Springs Fall Getaway
As the temperatures dip and the humidity wanes in the Arkansas Ozarks, so do the number of visitors, creating the perfect environment for those wishing to avert large gatherings. Although we love summer, autumn is an excellent time for an Arkansas vacation. A perpetual breeze circulating throughout the forested highlands brings about a bevy of outdoor activities that are seemingly more enjoyable in cooler weather. Vast green spaces, once filled with numerous patrons, are now yours for the taking. Another considerable attribute of a fall getaway to our neck of the woods is the vibrant spectrum of crimson, amber, and gold showcased by the surrounding hardwoods as they morph the local landscape into a whimsical autumn paradise. The most apparent result of this yearly transformation is a new perspective that lends itself to captivating day trips, sightseeing, photography, and other things to do in Eureka Springs.
Spectacular Arkansas Fall Foliage
One of the most noticeable aesthetics of an Arkansas fall getaway is the stunning array of chromatic elegance displayed by the fall foliage. Immersing yourself in this brilliant assortment of color isn't too hard if you head over to Hobbs State Park, less than 45 minutes away from Eureka Springs. With over 12,000 acres of Arkansas Ozarks magnificence along Beaver Lake's southern shore, Hobbs is Arkansas' largest state park. It is a treasured asset just waiting for you to explore via a 52-mile trail system. From mountain biking to horseback riding, Hobbs State Park has everything an outdoor enthusiast could ask for! On your way, you'll drive a scenic route on Highways 23 and 127 that will allow you to take in the pristine countryside. On your way back, stop by Eureka Springs to grab something to eat at the Rockin' Pig Saloon for a hearty supper or late lunch.
5 Other Ways to Enjoy Your Eureka Springs Fall Getaway
Fall Getaways with the Best Cabins in Arkansas
Fall getaways to the Arkansas Ozarks are anything but ordinary, so why not treat yourself to an extraordinary lodging experience? Can-U-Canoe, just outside of Eureka Springs, has an unrivaled selection of lodging options from small cabins to family-sized vacation homes. For more information or book your reservation, please visit us online or call 479-253-5966 today for the ultimate Arkansas vacation.