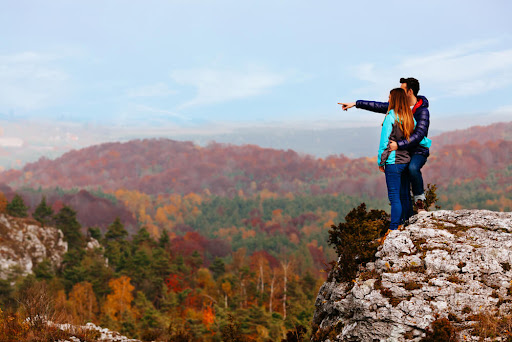 Arkansas Fall Colors
Fall has returned to the Ozark Mountains, transforming our landscape from rolling hills of green to a sea of reds, yellows, and oranges. One of the best places to see the magic of Arkansas fall colors is the charming town of Eureka Springs. And since fall foliage peaks around mid-October through early November, there is still plenty of time to plan your getaway with Can-U-Canoe and head to the great outdoors. Lace up your hiking boots and explore the scenic trails around Eureka Springs this fall.
Trails near Eureka Springs
Take the four-mile Lake Leatherwood Loop Trail around a scenic lake surrounded by woodlands this fall. Other sights include local wildlife, springs, creeks, historic bridges, and rock formations. This park is also excellent for an autumn kayak journey or fishing adventure.
If you are looking for a short and easy hike around water, we recommend the one-mile Black Bass Lake Trail. As you explore, you will be surrounded by limestone bluffs and towering pines highlighted by Arkansas fall colors. 
The Kings River Overlook offers some of the most stunning views of the Ozark Mountains. The area comprises upland hardwood forests and pine timber stands that transform during the fall. The hike is a moderate one-mile trek along a bluff overlooking the Kings River.
The Harmon Park Loop Trail is a mile and a-half walking and biking trail through the wooded areas of Eureka Springs. The trail connects with Harmon Park, Bark Park, and several of our beautiful natural springs.
Even though Whitaker Point Trail is a 60-mile drive from Eureka Springs, it is definitely worth the extra trip during the fall! This three-mile hike is absolutely breathtaking, beginning on a forested trail canopied by vibrant leaves. The rest of the path follows the bluff line until you reach Hawksbill Crag. Take in the picturesque views of Whitaker Creek and the expansive valley once you arrive.
Eureka Springs Cabins for an Arkansas Fall Getaway
Keep up to date with the Arkansas fall color report here to figure out the best time to plan your Eureka Springs getaway. Can-U-Canoe offers fantastic cabins for fall, nestled on a bluff 500 feet above the White River. Enjoy views of the rolling Ozark mountains from your private deck, take a deep breath of crisp air, and sip on hot apple cider. Browse our Eureka Springs cabins and plan your fall getaway today!