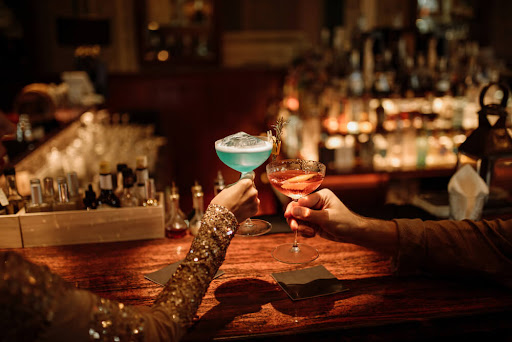 Eureka Springs Nightlife
Downtown Eureka Springs is unlike any other town in the Ozarks, characterized by Victorian architecture, natural springs, vintage hotels, inspiring art galleries, and a lively nightlife scene. Our historic town continues the fun at many of our bars, restaurants, and clubs when the sun goes down. There is a Eureka Springs nightlife spot for everyone, whether you are looking to dance the night away, listen to live music or enjoy a late-night cocktail. At the night's end, Can-U-Canoe offers the perfect cabin to unwind after a memorable day exploring Eureka Springs!
Eureka Live is the ultimate destination for dancing, entertainment, and nightlife in downtown Eureka Springs. This bar is home to the largest dance floor and beer garden in town, with live entertainment available Thursday through Sunday. They regularly feature special events like karaoke, DJ dance parties, and Drag Shows.
Chelsea's Corner Cafe has been one of the most popular Eureka Springs nightlife spots for over 30 years. They offer live entertainment every night of the week, great drinks, and the best pizza in town. Head outside to enjoy views of the Ozarks from the patio or relax with a game of pool or darts downstairs.
Missy's White Rabbit Lounge offers an eclectic nightlife spot in the historic downtown. Finding the lounge is half the fun, hidden in an unassuming stairwell downtown. Once you have arrived, sit back with a cocktail and listen to the sounds of live music.
The New Delhi Cafe is a three-level restaurant and bar where locals and visitors hang out. Stop in for open mic night on Wednesdays, join them for live music every weekend, and listen to some of the best musicians in the Ozarks.
Legends claim to be the hottest party spot in Eureka Springs. They offer events, drink specials, and music every weekend, including karaoke, poker, and pool tournaments.
Eureka Springs Cabin Rentals
Visiting one of these Eureka Springs nightlife spots is a wonderful way to end the day in our charming mountain town. Then return to your Can-U-Canoe cabin overlooking the White River and Inspiration Valley. Browse our Eureka Springs cabins and suites to discover the best lodging for your mountain getaway today!