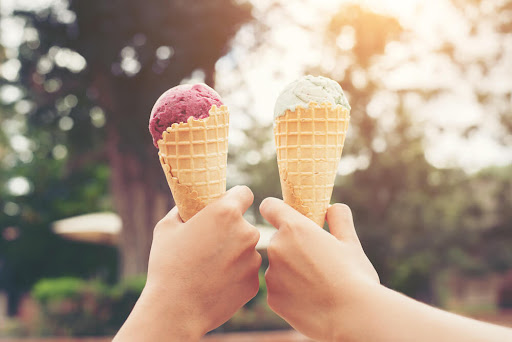 Where to Find Ice Cream in Eureka Springs
Eureka Springs is one of the top summer destinations in the Ozarks! Spend your summer exploring the great outdoors, strolling through the historic district, and having fun on the water. After a day of outdoor recreation, treat yourself to delicious ice cream in Eureka Springs. From delicious hard-scooped ice cream at Eureka Springs Coffee House to signature root beer floats at Colossal Cupcakes & Cones, there is a sweet treat for everyone!
Living Hi Coffee & Treats
Stop at Living Hi Coffee & Treats for sixteen delicious ice cream flavors that swap out weekly. They also offer milkshakes, smoothies, and sundaes. We recommend checking out their charming gift shop and browsing their collection of locally made souvenirs while you're here!
Colossal Cupcakes and Cones
Colossal Cupcakes and Cones offers sweet treats in downtown Eureka Springs. They offer hard scoops ice cream flavors like vanilla, chocolate, moose tracks, mint chocolate chip, rainbow sherbet, and chocolate chip cookie dough! They also sell milkshakes and their Colossal Signature Root Beer Float!
Eureka Springs Coffee House
This small family-owned cafe is the perfect place for coffee, breakfast, drinks, and ice cream! Eureka Springs Coffee House sells Bliss Artisan ice cream, creamy homemade-style ice cream made in small batches with unique ingredients.
Ice Cream Delights
Ice Cream Delights is a charming 1950s-style ice cream shop in downtown Eureka Springs. Inside, you will find nostalgic Coca-Cola decor and a simple menu of classics like ice cream sundaes, malts, and apple dumplings!
Pineapple Paradise Ice Cream
Pineapple Paradise Ice Cream is a food truck on East Van Buren Street, offering a fantastic place to grab a quick treat. They sell tasty fruit whips, hand-dipped Kemps ice cream cones, and root beer floats!
Plan a Summer Getaway in Eureka Springs, AR
After a day of summer fun, treat yourself to some delicious Eureka Springs ice cream! Then return to your Eureka Springs vacation rental with Can-U-Canoe overlooking the Ozarks. Whether you are looking for a one-bedroom cabin for a romantic getaway or a five-bedroom cabin to bring the entire family together, we have something for everyone!