An Intimate Ozark Mountain Wedding With Can-U-Canoe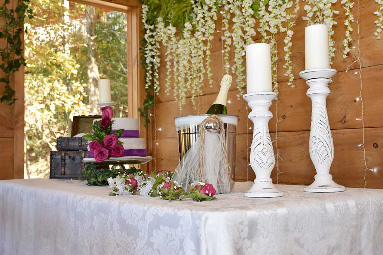 You have been dreaming of your wedding day for as long as you can remember, and the time has come to put all of those saved Pinterest posts into action and begin planning your long-awaited special day. When you plan your big day with Can-U-Canoe, you will have cozy Ozark cabins to stay in, a stunning view during the ceremony, and an intimate setting for the wedding you have always wanted.
An Ideal Location
Though Can-U-Canoe is known for its collection of beautiful, luxury Ozark cabins, there is much more to discover if you are a couple in search of the perfect destination wedding. One of the things that makes a wedding with Can-U-Canoe so magical is our stunning location. With our intimate wedding venue sitting high above the White River, you can pronounce your vows with a backdrop of our beautiful mountain river valley. Our Riverview Wedding Chapel hosts up to 40 people, so your closest friends and family can enjoy your beautiful ceremony and a mini reception with you.

An Unforgettable Event
No wedding is the same as the next, and each couple is equally unique. When you host your extraordinary wedding at Can-U-Canoe, you can expect the venue and event details to reflect the things that make you and your fiance so special. From floral designs to the meal at the reception, we can help you plan every last detail so that everything matches the visions that you have had for years.
Fitting Accommodations For You And Your Guests
Choosing Can-U-Canoe for your wedding gives you a few exquisite choices in lodging and added features to your event that you can't find anywhere else. Our beautiful Riverview Wedding Chapel provides you with a deck, offering views for you and your guests, incredible backgrounds for photo opportunities, and more. You can also rest easy knowing that your guests will have a cozy place to sleep through the night in one of our Ozark cabins. Call us or visit our website to begin planning your big day and discover the beauty of a wedding in the gorgeous Ozark Mountains and White River valley.