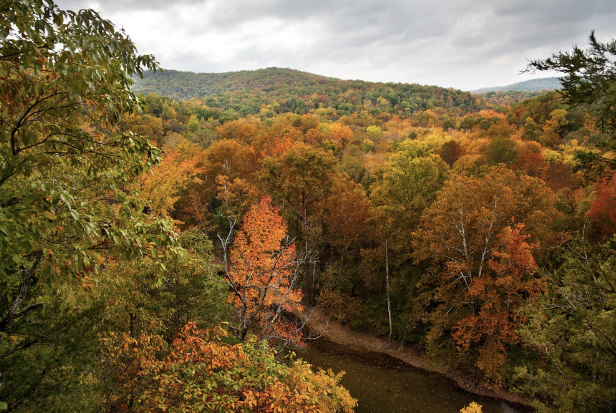 Celebrate Fall in Eureka Springs
Every year the lush green of the Ozark Mountains transforms into a sea of crimson, gold, and orange. This stunning fall foliage display in Arkansas is truly something special, and we invite you to experience it in Eureka Springs. The beautiful foliage is just the beginning of Eureka Springs fall activities; there are many ways to celebrate the season here. And our cozy cabins at Can-U-Canoe are an ideal setting for your fall getaway. Enjoy fabulous views of fall foliage from your private deck as you sip on warm apple cider and see for yourself why fall in Eureka Springs is so spectacular.
1. Take a Scenic Hike
There are various trails in Eureka Springs where you can get exceptional views of the fall foliage. The peak season is late October and early November. Whitakers Point is a favorite spot to snap a picture of the stunning colors of the Ozarks. But there are also dozens of miles of trails in town where you can take in the scenery. Check out these trails to see fall foliage in Eureka Springs.
2. See Fall Foliage From the Water
Take a cruise on the Belle of the Ozarks and see over 60 miles of scenic shoreline. This cruise is an excellent way to see the best views of fall foliage. Another highlight of this cruise is the opportunity to see wildlife. October is the best time to spot Bald Eagles soaring through the skies. This is an excellent Eureka Springs fall activity that the whole family can enjoy.  
3. Embark on a Spine-Tingling Tour
Eureka Springs has its fair share of ghost stories and legends that you can discover on a guided tour. Learn about the haunted history of the city or tour one of the most haunted hotels in America. But, beware you'll be sleeping with the lights on after embarking on these spine-tingling tours:
4. Experience Magic and Mystery
Spend a night at the Intrigue Theater with master illusionists Sean Paul and Juliana Fay. These exciting shows combine magic, mystery, and the paranormal. This is a unique activity in Eureka Springs no matter when you visit, but the shows in the fall are extra spooky for the season. 
5. End the Day with a Drink
After a day of fall activities, why not unwind at a local brewery for a refreshing craft beer. You can stop at Eureka Springs Brewing or Gotahold Brewing. Fall brings seasonal drinks such as ales and ciders that are sure to conjure images of pumpkin patches and cozy sweaters.