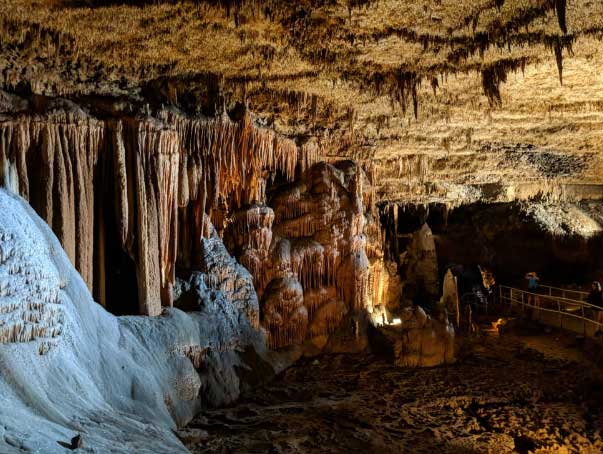 Caves Near Eureka Springs
Nestled in the heart of the Ozarks, Eureka Springs is an idyllic hotspot that has drawn in tourists for decades. From the historic downtown to exciting fishing, kayaking, and hiking adventures, we have it all. Eureka Springs is also centrally located next to some of the best caves in Arkansas. These captivating caves near Eureka Springs will bring you back for a visit year after year. After a day of underground exploration, return to your private cabin with Can-U-Canoe. Then, relax in the hot tub as you overlook panoramic views of the White River. So, start planning your Arkansas vacation today and visit the exciting caves near Eureka Springs.
Downtown Eureka Springs
Located in the heart of downtown Eureka Springs is the Grotto Cave and Spring. The cave opening is accessible from the street and is an excellent introduction to the town. You can also find The Rock House Cave and Saloon in downtown Eureka Springs. This landmark was used as a makeshift hospital during the Civil War. If you would like to explore downtown Eureka Springs and learn history, we recommend taking the Downtown-N-Underground tour. See all the creative nooks around town and then explore the underground bathhouse.
Onyx Cave Park
Located in Eureka Springs is the Onyx Cave Park. Grab a pair of headphones and listen to the tour as it guides you through the cave. Walk past stunning stalactites and stalagmites as you explore the cave at your own pace. 
Cosmic Cavern
Cosmic Cavern was discovered in 1845 and is the largest show cave in Arkansas. The guided tour takes you through stalactites, stalagmites, flowstones, sodastraws, draperies, and two cave lakes. The South Lake includes trout that have gone blind and lost their color from lack of light in the cave. The pristine lake Silent Splendor includes breathtaking formations unlike anywhere else.
Mystic Caverns
Take a one-hour drive to explore the best caverns in the Ozarks. The Mystic Cavern tour takes you through incredible calcite formations as you learn the 100-year history of the cavern. The other cavern located here is the Crystal Dome. This cavern features a 70-foot tall dome titled the Crystal Bell. Check out the rates and times for Mystic Caverns tours here. 
Riverview Cabins with Can-U-Canoe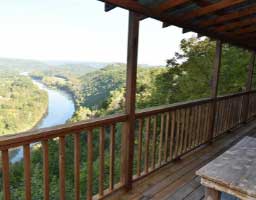 Exploring the caves near Eureka Springs is an exciting way to experience nature this summer. Take a short tour of the Onyx Cave right in Eureka Springs, or make the short trip to Berryville to see unique cave lakes at Cosmic Cavern. Then return to your cabin rental with Can-U-Canoe. All of our cabins offer views and amenities you can't get anywhere else. Our cabin amenities include private decks, hot tubs, scenic views, fully equipped kitchens, and more! We have the perfect cabins for groups of any size, so browse our rentals here. If you have any questions, don't hesitate to contact us at 479-253-5966.