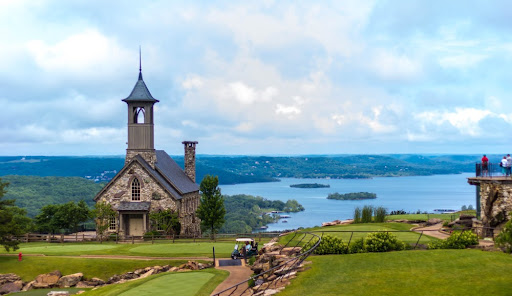 A Day Trip from Eureka Springs to Branson
Approximately one hour away from our charming mountain town, you will find the lively city of Branson, MO. Driving from Eureka Springs to Branson is a perfect day trip in the Ozarks, no matter what piques your interest. Whether you want to visit unique museums, create family memories, or explore the great outdoors, Branson has it all. Leave from your Can-U-Canoe cabin in the morning and discover the best attractions in and around the city below.
Explore Branson's Best Attractions
Many places claim to have something for everyone, and Branson joins that group with unique adventures around every corner. From live entertainment to family fun and the world's largest museum attraction, you could easily spend a week exploring the city. But, since you only have a day, we've narrowed it down to a few of the top things to do in Branson:
Titanic Museum Attraction: This Branson museum is a replica of the world-famous Titanic luxury liner and allows visitors to experience the ship firsthand. It includes over 400 authentic Titanic artifacts that tell the story of the passengers and crew.
Hollywood Wax Museum: Have you ever wanted to get up close and personal with your favorite stars? Then visit the wax museum to see wax stars like Elvis, Marilyn Monroe, Johnny Depp, and Lady Gaga.
Family Friendly: There are endless ways for families to spend a day in Branson. Interact with over 1,000 exotic butterflies and explore the living rainforest at The Butterfly Palace. Visit the Aquarium at the Boardwalk to learn about marine life and explore the ocean through interactive exhibits.
Explore the Great Outdoors
With mild temperatures during the winter, Branson is an excellent destination for year-round adventures. Explore scenic hiking and biking trails in the Ozarks, or embark on an informative cave tour on your day trip from Eureka Springs to Branson.
Table Rock State Park: Abundant outdoor adventures await at this state park, where you can explore Missouri's natural beauty on miles of hiking trails. The lake here is renowned for fishing if you want to spend your day trying to catch a record-setting bass.
Talking Rocks Cavern: Missouri is known as the cave state with over 6,000 caves, including the talking rocks cavern in Branson. Embark on a guided tour and learn about the cave's history, mineral deposits, and geological formations.
Bigfoot Fun Park: This outdoor adventure park is open daily and is an excellent year-round activity for families. Experience thrilling rides and go on a tour of the area while taking in views of the Ozarks and wildlife.
Plan a Getaway in the Ozarks
After your day trip from Eureka Springs to Branson, return to your cabin rental with Can-U-Canoe. We have accommodations for anyone visiting the area with our cozy one-bedroom cabins and spacious family rentals. You will be right at home with fully-equipped kitchens, washers, dryers, and comfy beds. Browse all of our Eureka Springs cabins and find the perfect place to unwind after a day of adventure in Branson.