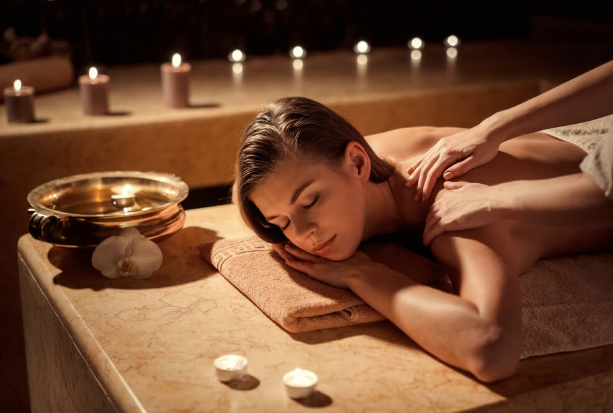 Eureka Springs Spas
The town of Eureka Springs was built on a unique foundation of miraculous cures and healing springs that go back to the 19th century. Travelers used to come from all over the country to experience the rumored healing springs for themselves. Fast forward to today, and Eureka Springs continues that tradition with healing and wellness at the local spas. Eureka Springs spas offer the perfect place for rejuvenation and reflection set amongst the beautiful Ozark Mountains. The relaxation continues when you choose Can-U-Canoe to host your Arkansas getaway, where you can end the day in front of a cozy fireplace or unwinding in the jacuzzi whirlpool.
A one-of-a-kind Eureka Springs spa experience awaits at Suchness Spa, where you can experience the transformative healing of nature, technology, and ancient wisdom. You can find a variety of massages along with facials, body wraps, and healing treatments for your hands and feet.
Feel your aches and pains disappear with the healing hands of the therapists at Eureka Massage Center. You can add several beneficial add-ons to your massages, such as herbal compresses and deep tissue work. We recommend the Travelers Delight that combines your massage with a foot treatment, facial, and essential oils.
Focus Massage uses hands-on healing Reiki treatments to encourage deep relaxation and promote overall wellness. Opt for a 60 or 90-minute therapeutic massage to relax muscles and relieve tension. If your feet have carried you through too many adventures in Eureka Springs, then add the de-stressor treatment to your spa day. 
Choose from various nurturing and therapeutic massages at Healing Benefits that will rejuvenate you from head to toe. Pair your massage treatment with facials, essential oils, moisturizing cocoa, or hot stones. And if you want to detoxify your skin and increase body circulation, try one of the body wraps available. 
A Wellness Retreat in the Ozarks Awaits
There is no better place for a wellness retreat than at the Eureka Springs spas. At Can-U-Canoe, we have everything you need to relax in the mountains. You can even contact a massage therapist and choose to have your massage at your cabin rental. Soak in the hot tub when it's warm outside and enjoy our jacuzzi tubs in the winter. Regardless of when you visit Eureka Springs, you will find a rejuvenating escape you can't find anywhere else!