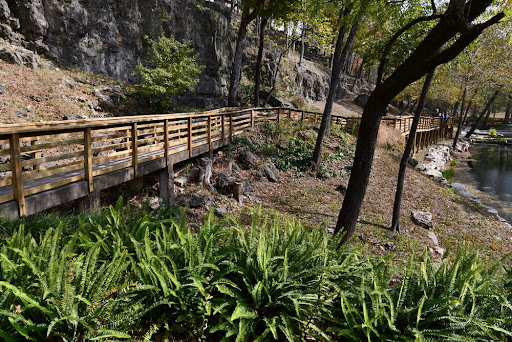 Eureka Springs Park Guide
If you are looking for free activities in Eureka Springs, we encourage you to get outside and explore our scenic parks! We offer Eureka Springs parks for every interest, whether you are looking for a place to hike or want to immerse yourself in local history. Can-U-Canoe provides the perfect basecamp for your adventures with our spacious riverview cabins in the Ozarks. Start planning your Arkansas getaway and discover all the recreational activities at our community parks!
Basin Spring Park
Located in the heart of downtown, Basin Spring Park is at the foundation of Eureka Springs. This park is where the first crowds of health seekers arrived in search of the healing waters of Basin Spring. Today, the park is a popular place to hang out downtown, often featuring live music, events, and entertainment.
Lake Leatherwood City Park
Lake Leatherwood City Park is on the National Register of Historic Places, encompassing 1,600 acres of recreational space. The spring-fed lake is popular for fishing, kayaking, and canoeing. You can also access 25 miles of hiking and biking trails teeming with wildlife like birds, white-tailed deer, bobcats, and more! If you are looking for outdoor recreation, this Eureka Springs park is the place to be!
Harmon Park
Visit Harmon Park and enjoy amenities like a playground, skatepark, dog park, and walking paths. The 1.5-mile park loop will take you past a beautiful garden and toward the historic neighborhood of Upper Spring Street. This loop takes you past many springs, including Blue, Grotto, Laundry, and Harding Spring. 
Black Bass Lake City Park
If you want a more secluded Eureka Springs park, visit Black Bass Lake. Explore the 1.8-mile trail that loops around the lake for a short and scenic hike, or throw a line in for an afternoon of fishing!
Eureka Springs Music Park
The Eureka Springs Music Park offers a unique setting that blends music, art, and nature. The park has interactive musical instruments that visitors can play, including wind chimes and xylophones.
Eureka Springs Cabins for Your Ozark Getaway
Discover more information about Eureka Springs parks on our local Parks and Recreation website! Then find your perfect home away from home when you choose Can-U-Canoe to host your Eureka Springs getaway. We offer cabins and homes with panoramic views of the river, valley, and rolling Ozarks, perfect for anyone from couples to large families. Plan the perfect Arkansas getaway with us today!