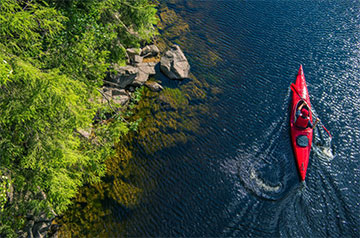 White River Kayaking in Eureka Springs
Kayaking is a favorite pastime among many people, and it is easy to see why. The minute you push off from shore and dip your paddle into the waters, you will be surrounded by nature's beauty. When you stay with us at Can-U-Canoe Riverview Cabins, set out on a White River Kayaking adventure for a fun and relaxing day on the water.
Go Explore
When you stay with us in our luxury cabins in Arkansas, you will easily be able to find kayak and canoe rentals nearby your accommodations. There are several local businesses with kayak and canoe rentals so that you can find your ideal watercraft for your trip. Float Eureka offers spectacular rentals as well as tours and shuttles that will take you upstream so that you can relax as you maneuver your way down to your pick-up point and not worry about transporting your watercraft. Discover the many different boat slips available or join a local outfitter's tour to dip your paddles in for a day afloat on the beautiful White River.
Excellent River Adventures
While there is nothing quite like White River kayaking, there are also plenty of other options to get you out onto the water this summer. Discover the fun of standup paddleboards and canoes when you are looking for something new and exciting. You can also join businesses like Kings River Outfitters for a journey down yet another magnificent river nearby our Eureka Springs cabin rentals. Beaver Lake boat rentals also allow you to head out on the open water for rocking on the calm waves or casting a line in for a bit of fishing!
Eureka Springs Attractions – On the Water
When you stay with us at Can-U-Canoe, you can experience the comforts of home, luxurious cabin life, and the beauty of the river valleys all in one place. If you are looking for an unforgettable summer getaway that allows you to get out on the water, discover White River kayaking as well as all of these incredible experiences that await you in Eureka Springs. Grab a paddle and get ready for the summer escape that you have always dreamed of with Can-U-Canoe Riverview Cabins!