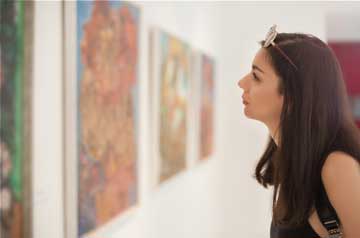 Eureka Springs Art Gallery
Eureka Springs is located in the Ozarks of northwest Arkansas. It is a town rich in history and scenic beauty. Native Americans treated the area as a sacred site honoring the powers of 65 "Great Healing Springs." Eureka Springs is often called the "City of Magic," perhaps because of the revered waters or maybe the shadows of the enchanted Ozark Mountains. The magic certainly transcends to inspire artisans of every craft as demonstrated in the Eureka Springs art gallery district.
Eureka Springs – the Arts Scene
For more than a century Eureka Springs has fostered a vibrant art scene. The town hosts a variety of events for visual, music, performance, and culinary arts throughout the year. Eureka Springs art galleries provide the community's unique creative pulse supporting permanent exhibits featuring the works of local and regional artists.
Located in the hills of Keels Creek this winery truly makes art from the vines. With eight varieties of locally grown grapes, Keels Creek Winery produces 2000 cases of boutique wines. Their well-appointed gallery provides the perfect backdrop to relax with a glass of vino while enjoying the impressive art exhibit.
Art4Spirit features the visionary work of internationally acclaimed artist Cynthia Ré Robbins. The fabulous exhibit of fantastic realism is displayed in a 700 square-foot gallery located in the Eureka Springs historic district.
Explore the amazing galleries, grounds, and trails of this free museum. Presenting works that display the power of art and architecture integrated with the beauty of nature.
Susan Morrison Gallery
Susan Morrison is a celebrated master wildlife artist. Her Heronswood gallery is a must-see for art enthusiasts and people with a fascination for America's wildlife and wildlands.
Eureka Springs – Art and More
Local activities extend well beyond the Eureka Springs art gallery district. The area is a popular tourist destination offering adventures from the great outdoors to cultural arts. Visitors enjoy historic tours, mountain trails, museums, wineries, theaters, shopping, the list goes on. Eureka Springs certainly has something for everyone – including meeting the big cats at the Turpentine Creek Wildlife Refuge. So much to see, tourists may choose to start with a Joe Gunnels Tour to get a good feel of the area. Can-U-Canoe.com is a great online resource for activities and accommodations.