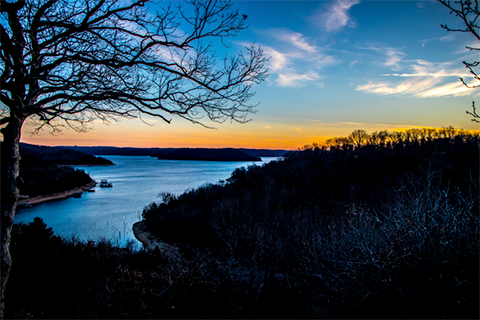 Fun Eureka Springs Attractions | Stay Cool with Can-U-Canoe
Arkansas summers are hot and humid, with high temperatures averaging 90 degrees, and the days remain toasty through the end of October. When the sun hits its peak, the only thing to do is find a body of water and chill, chill, chill. That's why Beaver Lake is one of the top Eureka Springs attractions. It's where you can go scuba diving in Arkansas and get the perfect golden tan. When you're looking for things to do in Eureka Springs, try out these activities to beat the southern heat.
Beaver Lake Boat Rentals
Here at Can-U-Canoe Riverview Cabins, we encourage all things relaxing. With spectacular views of the river that feeds Beaver Lake, you'll feel refreshed just by looking out your window. We also know that there's nothing quite like floating under the sun on a warm, breezy morning. Whether you live in the area or are visiting on vacation, boat rentals in Arkansas are the perfect way to unwind. To rent a boat for yourself, check out Starkey Marina; they have plenty of options to satisfy large or small groups. If motor boats aren't your style, rest assured that pontoons and speedboats aren't the only Eureka Springs attractions. For a quieter ride and a little more exercise, canoes and kayaks are just what you need.
Scuba Diving in Arkansas
Scuba diving isn't solely reserved for ocean-goers. In fact, you can explore the unknown depths of Beaver Lake right here at Can-U-Canoe. Scuba diving in Arkansas is a must, but the experience at Beaver Lake is truly special. Compared to other lakes, the water here is crystal clear. Some of the coolest Eureka Springs attractions are hidden beneath the surface of Beaver Lake. Man-made underwater displays are scattered across the floor, making for an interesting treasure hunt. Expect to see anything from a toilet to a sunken plane. There are also tons of fish to be spotted in these nooks and crannies, so keep your eyes open for movement. We recommend C & J Sports for lessons and equipment rentals.
Exciting Eureka Springs Attractions
Are you craving a little excitement on your vacation? Can-U-Canoe will help you find it. Our cute, historic town has no shortage of things to do and sights to see, starting with the dazzling Beaver Lake and all the other Eureka Springs attractions. Call us today at 479-253-5966 to plan your visit.