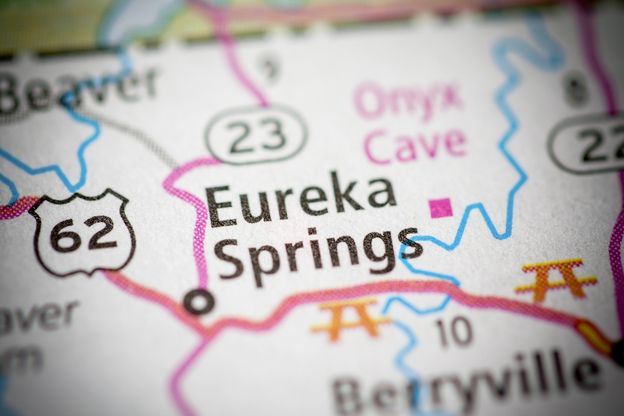 Eureka Springs Shopping:
A Historic Experience
While there is plenty to do out in the wild, we encourage you to mosey into town and reconnect with civilization for a bit. Shopping in Eureka Springs gives you a chance to acquire a real sense of place and immerse yourself in the historical beauty offered by the Victorian architecture that lines the streets.
To give you a little nudge, we've put together a few of our favorite retail therapy outlets.
5 Must Stop Shops in Eureka Springs, Arkansas
Begin your Eureka Springs shopping experience and satisfy your sweet tooth with some of the best fudge on this side of the Ozark Mountains.
Don't let the name fool you, these ladies are geniuses when it comes to satiating your desire for a mouthwatering treat. Saltwater taffy and other delectables, including giant peanut butter cups (yes giant), are also available for your indulgence. Open Sunday through Thursday from 10 a.m. – 5 p.m. and Friday and Saturday from 10 a.m. – 6 p.m.  
No Eureka Springs shopping mission would be complete without a stop at Romi's. They offer a wide range of eclectic merchandise including vintage furniture, framed vintage artwork, lighting, collectibles, and antiques. Open Wednesday through Sunday from 9 a.m. – 5 p.m.
Hats Hides & Heirlooms is nestled in the heart of Eureka Springs and has a vast selection of brand name hats for men and women. It's the only shop in Eureka Springs dedicated to headwear and is one of the largest hat stores in Middle America. Open all week from 10 a.m. – 5 p.m.
For Bare Feet is a specialty store that focuses on socks. Whether you're shopping for rugged hiking socks for hitting the trail, cute novelty socks that feature some of your favorite brands, or popular sports teams (NHL, NFL, NCAA, and NASCAR), For Bare Feet has you covered. They even have socks that smell like your favorite treats! Open all week from 9 a.m. – 6:30 p.m. 
Before you head back to the bush, be sure to stop at Wild Blue Yonder for additional clothing and accessories.
This store offers an assortment of trendy yet practical brands that many outdoor enthusiasts have come to trust. They also have a gift shop! Open Saturdays from 10 a.m. – 5 p.m. and Sundays from 10 a.m. – 4 p.m.
Only 12 minutes from historic Eureka Springs, Can-U-Canoe is in the perfect location for getting away without feeling stranded. From one-bedroom cabins to five-bedroom lodges, there's enough space for a weary traveler or a group of adventure seekers.
We also offer catering and a conference center that's ideal for corporate retreats, family reunions, or other large gatherings.
To start planning your unique Ozark Mountains getaway, please give us a call at 479-253-5966.