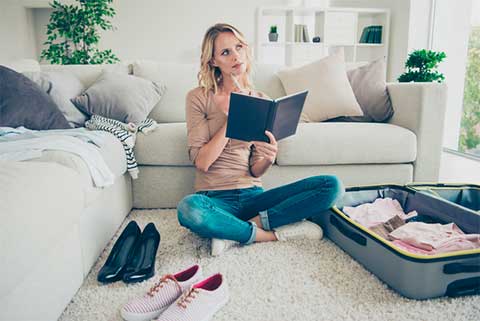 4 Essential Items for Your Cabin Packing List
Taking a trip to the Ozark Mountains is something everyone should consider, especially outdoor enthusiasts. With it's rolling foothills and the ever-present White River, the Arkansas Ozarks present a remarkable opportunity to immerse oneself in expansive grandeur. With such mesmerizing prospects, it can sometimes be overwhelming to plan your cabin packing list. To help maximize your Arkansas cabin experience, we've put together a list of a few must-have items that will save you a trip into Eureka Springs.
A Summer Packing List for Cabins in Arkansas
Planning the perfect Ozarks vacation can take a bit of work, but you'll be happy you made an effort when everything you need is right where you want. Creating a cabin packing list will allow you to assess what you need to bring but can also help you decide what to purchase while you are visiting. While our cabins come with several amenities, there are certain items you'll want to add to your cabin packing list. Without further ado, we present four essential items while visiting cabins in Arkansas. 
Food, Toiletries, and Other Personal Necessities
You'll likely want to prepare more than a few meals at your new home away from home, so food is an obvious choice. What may not be as intuitive are personal care items and toiletries. A list of supplied items is available in the form of a pop-up menu on our home page. While we encourage our guests to venture into Eureka Springs, we'd prefer they do so out of desire rather than necessity!
Sun and Heat Protection
Sunscreen can go a long way in protecting your skin against hazardous UV rays, but added precaution in the form of sunglasses, hats, and shawls is highly recommended. Sunscreen will prevent sunburns, and additional clothing can help prevent heat exhaustion. Furthermore, sunglasses can keep you from having to squint all day, which can prevent headaches. In addition to the items above, it is also advisable to bring a soothing container of aloe vera in case you get sunburns. 
Insect Repellant
The dense mountain forests that lend themselves to exploration and wonder are also home to an army of aggravating insects and other pesky invertebrates. Gnats, mosquitos, ticks, and biting flies all have their purpose in the ecosystem, but that doesn't mean you have to be annoyed by them. Be sure to include at least one canister of bug spray on your cabin packing list, and consider bringing a citronella candle to light on your porch or by the campfire.
Appropriate Clothing
You are likely visiting Arkansas in the summer because you want to take advantage of the seemingly endless possibilities for outdoor adventures. Clothes that are great for boating won't fit the bill when it comes to hiking. As such, it's crucial to include a wide variety of attire on your cabin packing list. A pair of sturdy hiking shoes will be best on the trail while swimming garb and sandals are best for on the beach or boat. Be sure to include some formal wear as well, as you may be moseying into town for an elegant dinner. 
An Ozarks Vacation on the White River
Ideally located just outside Eureka Springs, Can-U-Canoe offers the ultimate Ozarks Mountains experience on the renowned White River. Whether you're looking to get in some fishing or simply retreat from life's trials and tribulations, Can-U-Canoe has the perfect cabins in Arkansas for an Ozarks vacation. For more information and to book your stay, please visit us online or call 479-253-5966.