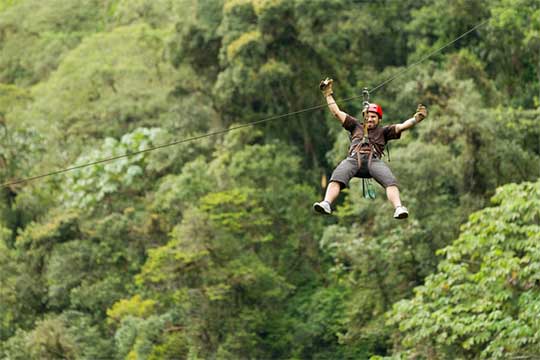 Where to Go Ziplining in Arkansas: Eureka Springs
The Ozark Mountains are a breathtaking piece of paradise. Our rugged countryside is full of rolling hills, lush trees, hidden caves, and fun activities. You can explore deep underground in ancient caverns, and you can walk on sunlit trails through the emerald forest. When you visit Can-U-Canoe Riverview Cabins, you can also explore 300-plus feet above ground. Ziplining in Arkansas is the experience of a lifetime, for you'll see the Ozarks like never before as you soar through the fresh mountain air. Below you'll find everything you need to know to zipline in Arkansas.
The Best Eureka Springs Zipline Tours
If you're looking for Eureka Springs zipline tours, Ozark Mountain Ziplines is the best guide service. They offer two-hour journeys across 10 cables and a swinging bridge. Their season runs from March through October, so you can go ziplining in Arkansas in spring, summer, and fall. Each season features different colors and weather for you to enjoy!
These Eureka Springs zipline tours are suitable for people above the age of three, but an adult must accompany children between the ages of three and 15. Since all age groups enjoy ziplining in Arkansas, it's the perfect activity for families staying in our Eureka Springs cabins. However, flying among the birds is fun and exciting for couples and groups of friends, too. If some of your travel partners would prefer to keep their feet on the ground, they can watch your tour and take photos from a scenic hiking trail.
Since you'll be moving quickly at 300-plus feet above ground, your clothing and personal items must be secured. Ozark Mountain Ziplines recommends wearing tight shoes, such as hiking shoes or sneakers, and they prohibit flip flops. It's also best to wear comfortable and fitted clothes, so stay away from skirts, long sweaters, and dangling jewelry.
What Does Ozark Mountain Ziplines Provide?
Some extreme sports, like scuba diving, often require a prior certification and equipment rental. Ozark Mountain Ziplines doesn't require any experience, for their professional guides will teach you everything you need to know for a successful trip. They'll give you a fully guided tour and point out the plants and wildlife you encounter. It's the most extensive Ozark zipline tour.
You're welcome to bring a camera or phone to take photos. Ozark Mountain Ziplines provides lanyards to keep your personal items safe, and you may take photos from the platforms between zips. All the other necessary equipment, such as helmets, harnesses, and carabiners, are provided as part of your ticket purchase. The experience ends with a short but beautiful hike to the air-conditioned bus, which will take you back to the welcome center. Then, you can return to your comfortable riverview cabin to compare photos and talk about your favorite part of the tour.
Go Ziplining in Arkansas
If Ozark Mountain Ziplines sounds intriguing to you, book your stay in our Eureka Springs Cabins today! The season for ziplining in Arkansas is coming up quickly, and it's best to start planning early to ensure you can travel during your desired dates. Call us at 479-253-5966 with any questions.