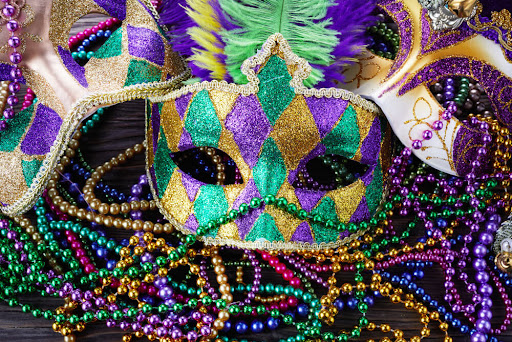 Eureka Springs Events: Celebrate Mardi Gras in the Ozarks
When you hear Mardi Gras, you probably think of the extravagant parades and festivities in New Orleans. But, many places throughout the country put on memorable Mardi Gras celebrations, including our historic mountain town. Every year Eureka Springs transforms into a riot of color with creative costumes, exciting parades, and masquerade balls. This is one of the most popular Eureka Springs events that is not to be missed, and Can-U-Canoe provides the perfect basecamp for the festivities. Celebrate Mardi Gras in the mountains and let the good times roll in Eureka Springs!
What to Know Before You Go
The Mardi Gras celebration kicks off at the beginning of January and usually ends the first week of March, but many of the main festivities happen at the end of February. Since this is such a popular Eureka Springs event, make sure to buy advanced tickets, so you don't miss out on the fun. One of our favorite things about Mardi Gras is the opportunity to wear an elaborate costume or festive attire. Go all out with feathered boas and colorful masks, or dress in the traditional Mardi Gras colors of purple, green, and gold. 
Eureka Springs Events at Mardi Gras
Now that you know when Mardi Gras takes place and what to wear, the last question is what to do! The festivities always kick off with placing beads on the Mardi Gras Tree on Spring Street. There are several exciting events available before the official parade at the end of February. You can attend a wine dinner, get a taste of New Orleans, or party in style with the black light ball.
Once it gets closer to Mardi Gras, which means "Fat Tuesday," you can expect the best celebrations yet. The masquerade ball is a local favorite and always includes a different theme for costumes every year. But, the real fun starts at the Eureka Springs Day Parade, where you can see epic floats and costumes. Continue the celebration with the annual Jazz Brunch and enjoy great food and live music in the Ozarks. Mardi Gras ends with the Fat Tuesday wrap party, where you can wind down, relax, and recount your favorite memories from the weekend.
Let the Good Times Roll in Eureka Springs!
Check out the best Eureka Springs events during Mardi Gras, and join us in the Ozarks for an unforgettable celebration. Whether you are attending Mardi Gras for a week or a weekend, we have you covered with spacious cabins at Can-U-Canoe. If you are visiting the area with a large group, then our family cabins are the perfect option. Keep the party going with the wet bar and game room at our beautiful Eagle's Roost rental. Join us for Mardi Gras in Eureka Springs and experience a memorable vacation full of parades, costumes, and endless fun!