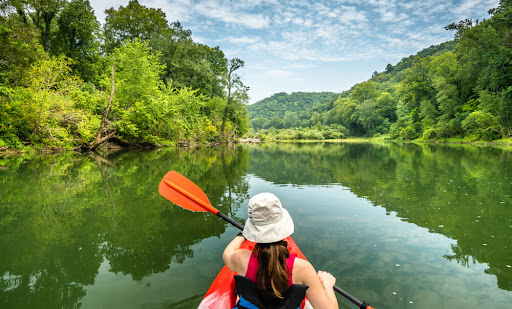 Kayaking in the Ozarks
Nestled in Arkansas' Ozark Mountains is the charming and historic town of Eureka Springs. This secluded town is a hidden gem for outdoor enthusiasts and adventurers. Eureka Springs kayaking is one of the most popular activities since two beautiful rivers and three lakes surround us. Exploring the waterways is an excellent way to get some exercise while taking in the beauty of the Ozarks. Stay with us at Can-U-Canoe Riverview Cabins and never lose sight of the water. Our cabins overlook the White River along with panoramic views of the valleys and hills. Read on to discover the top kayaking and canoeing spots in Eureka Springs.
White River runs 720 miles throughout the Ozark Mountains, including Eureka Springs. This river is a popular place for fishing and float trips. Float Eureka offers trips on the White River that will provide you with a shuttle and gear needed for the float. The float is approximately four hours long and is suitable for every age and skill level! Sit back and enjoy the views of the scenery or bring your fishing pole and fish right from your kayak or canoe.
Similar to the White River, the Kings River is a free-flowing body of water used for float trips. Both Kings River Outfitters and Trigger Gap Outfitters offer family-friendly trips on the river. Enjoy the relaxing adventure on the river past rocky bluffs, tree-lined banks, and sloping gravel bars. The day trip options end at the Trigger Gap, where you will find a fantastic setting for swimming to end the trip!
This small lake is located within a city park and is the perfect place for families and beginners looking for Eureka Springs kayaking spots. Enjoy a relaxing afternoon kayaking past the woodlands that surround the lake. There is an abundance of wildlife to keep an eye out for during the day, including herons, bald eagles, deer, and raccoons. You can rent your kayak from the Eureka Springs Parks and Recreation department at Lake Leatherwood.
Beaver Lake in nearby Rogers is a 10-minute drive from Can-U-Canoe and offers 30,000 acres to explore. Endless kayak and canoeing adventures are available here, and you get your kayak rental from Beaver Lake Outdoor Center.
The Best Outdoor Adventures in the Ozarks
Eureka Springs kayaking is just one of the ways to explore the great outdoors in Arkansas. Now is the perfect time for hiking, biking, fishing, and boating adventures in the Ozarks. Whether you are visiting with the family or on a couples retreat, choose Can-U-Canoe Riverview Cabins to host your getaway. With one to five-bedroom options, our riverview cabins are sure to suit all of your vacation needs during your vacation in the Ozarks