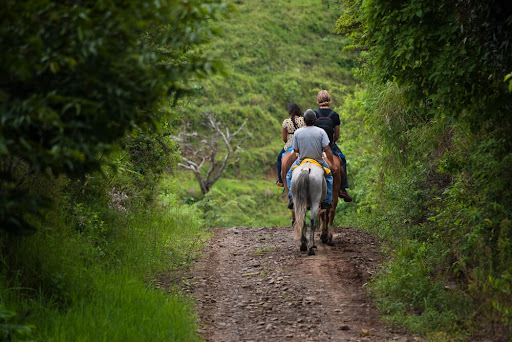 Horseback Riding Near Eureka Springs
All it takes is one look at the rugged hills of the Ozark Mountains to understand why this area of the United States is so popular amongst adventurers. The abundance of lakes, waterfalls, caves, and rivers offers endless activities from paddling to hiking. Eureka Springs offers an idyllic gateway to everything the Ozarks have to offer, including unique ways to explore the region like horseback riding. Horseback riding near Eureka Springs is an excellent way to get off the beaten path and have fun with the entire family. Stay with us at Can-U-Canoe and discover outdoor adventures outside your cabin door!
Horseback Riding for Beginners
If you have never been on a horse before, you should know a few things before planning your ride in the Ozarks. To help you prepare for your first horseback ride, we have put together some helpful tips and information:
Make sure you wear proper attire for your ride. This includes long pants, closed-toe shoes, and a safety helmet.
One of the easiest ways to help balance in the saddle is to sit up straight with proper posture. Try to keep your toes pointed up in the stirrups to help maintain your posture.
Remain confident and relaxed on your horse.
Have fun and enjoy the beautiful scenery of the Ozark Mountains!
Keels Creek Trail Rides offers the only horseback riding in Eureka Springs. They have 50-minute trail rides that will take you along beautiful Keels Creek and past open meadows, enchanting forests, and babbling brooks. Please keep in mind that rides are available for ages over ten, and there is a 250 lb weight limit. If you are ready to book your ride, please call 479-244-5138 to make a reservation.
Horseback Riding Near Eureka Springs
Eureka Springs only has one riding stable, so if you would like to ride longer during vacation, we recommend making a day trip to Fayetteville or Branson.
Horseback ride through Lake Sequoyah Park with a guided trail ride in Fayetteville with Flying Q Farms. The experienced guides strive to make every ride as stress-free and fun as possible for everyone. Please call 479-283-6788 to reserve your trail ride.
Ozark Mountain Trail Rides offers the perfect family-friendly horseback riding in Branson, MO. All of the horses are gentle and are regularly used for first-time riders and young kids. Choose between their two scenic routes and arrange your horseback ride today!
Ozark Mountain Cabins in Eureka Springs
Spend your summer exploring the Ozarks and sign up for horseback riding in Eureka Springs or make a day trip to Fayetteville or Branson. Can-U-Canoe offers Eureka Springs cabin rentals for groups of all sizes. Whether you embark on a romantic getaway or a family vacation, we have the perfect lodging option for you!