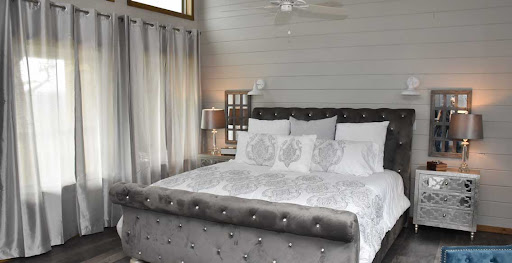 Plan a Eureka Springs Elopement
If you are looking for Arkansas elopement destinations, there is no better place to tie the knot than Eureka Springs. Nestled in the heart of the Ozarks, our charming mountain town offers the perfect backdrop for your special day. Choose Can-U-Canoe Riverview Cabins to host your Eureka Springs elopement, whether you want to escape just the two of you or with a small wedding party. And while you are here, check out all the activities perfect for couples, from wine tastings to outdoor adventures and romantic dinners.
If you are interested in an elopement for two, our resort offers the perfect setting overlooking beautiful Inspiration Valley. We can help you arrange for a minister and photographer to come directly to your cabin.
Our SkyView Suites offer a fantastic option for couples looking for romantic lodging for their elopement. All six suites offer luxurious king-size beds, oversized jacuzzi tubs overlooking White River and Inspiration Valley, private decks, full kitchens, electric fireplaces, and heated bathroom floors. In addition to our suites, we offer one-bedroom cabins for couples, including:
Things to Do During a Eureka Springs Elopement
Explore our Charming Downtown
Our entire downtown is on the National Register of Historic Places and offers a great place to start your Eureka Springs elopement. Marvel at the Victorian homes, shop at unique boutiques, learn about fascinating local history, and stick around for the happening nightlife scene.
Sip Wine in the Ozarks
Head to Keels Creek Winery for a romantic wine tasting in a secluded setting. Sip on their collection of locally grown and fermented white, fruit, red, and dessert wines. Or stop at The Stone House and pair a drink with a delicious charcuterie board.
Embark on Outdoor Adventures
Eureka Springs is a paradise for couples who love the outdoors. Surrounded by two rivers and three lakes, water activities like kayaking, canoeing, fishing, and paddle boarding are popular pastimes.
Enjoy a Romantic Dinner
There are several options available for your romantic dinner in Eureka Springs. We recommend checking out Ermilio's, Grotto Wood-Fired Grill, and Rogue's Manor.
Plan Your Eureka Springs Elopement Today
Choose Can-U-Canoe for an intimate Eureka Springs elopement with our romantic cabins and incredible views! If you have any questions about planning your special day, please contact us at 479-253-5966.